SASS Style
Louise Golding launched SASS Style, based in Regent Street, just four months ago and already both the footfall and sales figures have exceeded initial projections by 200 per cent.  Business is booming for the women's fashion store by so much that Louise has now recruited two new style advisors to the team, with plans in place to continue recruiting in future.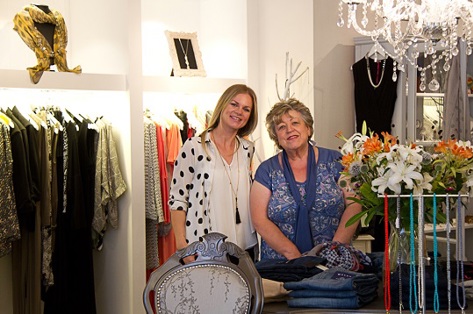 Pictured (left to right): Louise Golding and Wendy Brown, CWCC Start-up Adviser
Louise, who was assisted with the setting up of the business by the Coventry and Warwickshire Chamber of Commerce, says she has been overwhelmed by the response SASS has received from customers so far.
"SASS has by far exceeded any expectations I had previously – I can't believe how popular it has been," she said.
"After working for various retailers for more than 11 years, the time felt right to finally branch out on my own.
"Having a son also gave me food for thought and prompted me to ask myself what I really wanted to get out of my career.
"I have always adored retail, styling and working in a customer facing role, so opening my own store seemed the most practical yet exciting thing to do.
"Managing my own business has given me much more freedom, both in terms of exercising my creative flair as well as allowing me to work flexibly, which is great now that I have a young son."
Louise added that the business guidance she has received has been a great benefit, including being able to bounce ideas off her adviser.
"The Chamber has provided a real support network, having provided me with information on how to manage finances such as undertaking cash flow forecasts, as well as discussing apprenticeship opportunities and marketing potential.
"Setting up my own business was initially quite a daunting prospect, so it really comforted me knowing that the Chamber's advisers were always on the end of the telephone – the advice offered is invaluable to anyone considering it.
"Looking forward, we are currently working to create a transactional website for SASS and if business continues to be as busy as it has been I am even hoping to add a menswear section."
Wendy Brown, enterprise coach team leader at the Chamber of Commerce, said: "SASS Style has made a fantastic start and we are delighted to have helped Louise turn her idea into a business.
"The Chamber offers a range of start-ups and SMEs in the region support in terms of strategic planning and business guidance.