Enchanted Day Nursery
Coventry's first organic nursery is set to open a third room following huge growth over the past seven months. Enchanted Day Nursery and Holiday Club, a three-floor nursery in Foleshill, now has around 30 children visit every day and has seen its staffing number treble since opening in October with their unique approach to childcare.
Directors Adele Payton and Carly Cullen have renovated the entire building from scratch themselves, to create the only organic nursery in the city, after receiving free help and advice from the Coventry and Warwickshire Chamber of Commerce through the Coventry and Warwickshire Business Support Programme.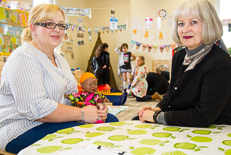 Picture caption: Adele Payton and Margaret Bull at Enchanted Day Nursery
The nursery serves organic food, uses organic baby wipes, natural cleaning products and biodegradable nappies - which are included in the cost.
It even has a low-plastic toy policy, with building blocks made of eco-friendly foam rather than plastic. The nursery also focuses on 'open-ended' resources – toys that help children to think about what they make, never giving them the finished product.
The nursery has plans to open a fourth room by January 2018.
Adele and Carly both have extensive experience in childcare but had no previous business experience before starting up the nursery.
Adele said: "We did a lot of market research into what was missing, where the gap in the childcare market was because there were lots of things that I wanted for my little girl at nursery that I could never find.
"Our ethos is that we want to be kind to the environment and continue to reduce our carbon footprint.
"Even with things like drawing paper, we have turned logs into chalkboards or other materials to draw on.
 "We set about renovating the building ourselves, so every inch of this been painted by myself and Carly. It really is a labour of love.
"We have basically self-taught ourselves everything, we were walking in blind with no business experience, even down to payroll! It was great to have Margaret Bull from the Chamber come here and give us that fresh pair of eyes to help us see where we could improve, she was a lot of help."
Margaret Bull, business adviser at the Chamber, said: "Adele and Carly have a great vision for their nursery and it has allowed them to build this unique childcare facility in Coventry.
"The main emphasis was to help them with their marketing strategy, identifying what made them different and focusing on marketing activity that could impact their target market.
"The owners are very determined. They took on board the advice and now the nursery is achieving the financial objectives set out in the business plan and delivering high standards in child care.
"They started from scratch, are largely self-taught when it comes to business and are a great example of how you can start-up a successful company with hard work and a can-do attitude."
The Coventry and Warwickshire Business Support Programme is funded by the European Regional Development Fund, in partnership with Coventry City Council, Warwickshire County Council and the District and Borough Councils. 
For more information or to book on to the Business Support programme call the Chamber on 024 7665 4321 or click here