West Midland Reserve Forces & Cadets Association
The 21in21 Women in Business Mentoring Programme is sponsored by the West Midland Reserve Forces & Cadets Association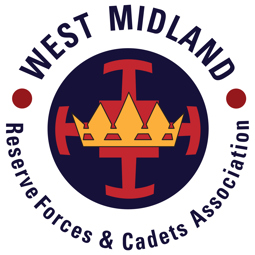 About the West Midland Reserve Forces & Cadets Association...
The origins of the Reserve Forces and Cadets Associations (RFCAs) date back to 1908. Today there are 13 Associations covering England, Scotland, Wales and Northern Ireland. West Midland RFCA supports the counties of Shropshire, Staffordshire, Warwickshire, Worcestershire and Herefordshire and the Metropolitan Boroughs of Wolverhampton, Walsall, Dudley, Sandwell, Birmingham, Solihull and Coventry.
The Association has an influential and wide-ranging role. It is a regional civilian body comprising of voluntary members and a full-time secretariat. Along with other RFCAs, it has been established by statute to offer advice and support to the Defence Council on behalf of the Reserve Forces and cadets. We also help to promote all three Services, both Regular and Reserves, within the community through liaison with local authorities, employers and other influential groups and individuals.
The Association is empowered to hold, acquire and dispose of property and is responsible for the maintenance and facilities management of some 30 major Reserve centres throughout the region. The Association also supports and maintains over 250 cadet locations across the region and provides the full-time staff for the Army Cadet Force.
Reservists and cadets are part of the local community in a way that Regular Forces are not. They therefore need the support of an organisation whose people are familiar with, and prominent within, the community. Our voluntary members provide this local Defence footprint throughout the West Midlands and are experienced professional people who provide a wide cross-section of expertise and advice in financial and legal affairs, estates management, recruit marketing, employer support, youth matters and local governance.
We work with employers and community groups who want to demonstrate their support to the Armed Forces by signing up to the Armed Forces Covenant. The key principles of the Covenant are that the Armed Forces community should face no disadvantage compared to other citizens in the provision of public and commercial services. The Covenant belongs to the whole nation, so everyone from local authorities, local communities, public services, businesses, charities, individuals and the Armed Forces have a role to play.
West Midland RFCA along with our partnering Armed Forces representatives are proud to be sponsoring the 21in21 programme and supporting such an integral element of the community in which we operate. We are pleased to be able to share our own expertise and impart our knowledge to the mentees who are aspiring to achieve great things.
Find out more: www.wmrfca.org