Funky Footwear
A holiday to Mexico has inspired a North Warwickshire woman to step away from her day job to start up her own footwear business.
Deborah Bickford, 48, from Dordon, launched Funky Footwear at the NEC in February, after receiving free business advice and support from the Coventry and Warwickshire Chamber of Commerce through the Coventry and Warwickshire Business Support Programme. Deborah has been advised by Martyne Manning at the Chamber while starting up her business.
Funky Footwear sells six different ranges of Chula sandals that enables people to change the tops with hundreds of different customisable looks.
Funky Footwear imports its products from Mexico, and is the only wholesale/retail distributor of Chula sandals in the country. The firm is currently selling its sandals in six boutique shops around the UK and online.
It's a far cry from Deborah's previous role as National Sales Manager of PM Cranes in Italy for 25 years, which involved travelling to Italy six to seven times a year and around the UK.
"I wanted to do something different and change my work-life balance because I was spending so many weeks away from home," said Deborah.
"Before I went on holiday last summer I spent some time looking at e-commerce businesses and I was trying to decide what I'd really like to do.
"While on holiday in Mexico I walked past a shop window that really attracted me because I love shoes and colours.
"I picked up a pair of bases which I thought had got the top on, and when I asked for my shoe size she opened up an ottoman full of shoe bases without the tops on them.
"I was transfixed by the fact that you could change the top, which I thought was genius.
"The business concept is all about making an investment in the base of the shoe and then buying different tops or laces to go with different outfits. It's not just a one-off sale."
After some further research to banish her post-holiday blues, it wasn't long until Deborah knew that selling the Chula sandals online was the perfect fit.
She left her position at the PM Group last August and started her new venture in September which included sourcing products from Mexico, setting up her website and creating a workshop.
Plans are also afoot to build an additional unit in her garden for an office and showroom.
"A typical day now is arranging visits to small independent boutiques, pop ups and marketing.
"After that, it's working out what I am going to do that month to try and sell the product, and working towards different events making sure I have the right stock, styles and promotional materials.
"Martyne has been fantastic with me. I've gone from a senior role in a company where various things were taken care of, to a situation where I have to execute everything myself. Martyne has helped to connect me with people who can help me, as well as offering tips on promoting my business, accessing finance and generally encouraging me to look to the future."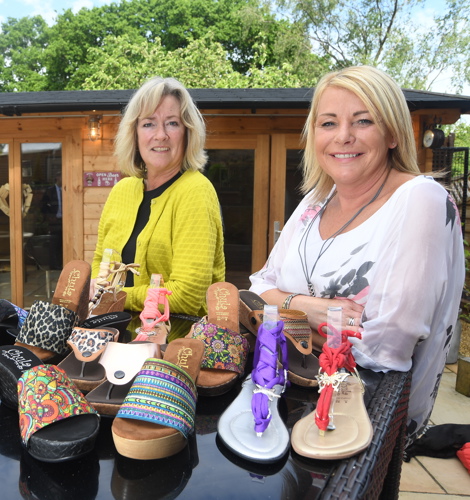 Pictured (left to right): Martyne Manning and Deborah Bickford
Martyne, who is a business coach for SMEs at the Chamber, added: "We're hoping Funky Footwear's story will inspire other people to pursue any business idea that they have.
"Deborah has shown that with the right research, determination and advice, starting your own business can become a successful reality."
The Coventry and Warwickshire Business Support Programme is funded by the European Regional Development Fund, in partnership with Coventry City Council, Warwickshire County Council and the District and Borough Councils. 
For more information or to book on to the Business Support programme call the Chamber on 024 7665 4321 or click here
The Coventry and Warwickshire Business Support Programme is receiving £6.3 million of funding from the England European Regional Development Fund (ERDF) as part of the European Structural and Investment Funds Growth Programme 2014-2020.
The Department for Communities and Local Government is the Managing Authority for the ERDF. Established by the European Union ERDF, funds help local areas stimulate their economic development by investing in projects which will support innovation, businesses, create jobs and local community regenerations. For more information visit https://www.gov.uk/european-growth-funding