Oxford Fibre
A high-tech Rugby-based business that makes innovative fibre cutters for the high-speed internet industry is being helped to accelerate its plans to grow.
Oxford Fiber, which is based at the Sir Frank Whittle Business Centre in Rugby, designs and manufacturers specialist cutters for fibre optic cables. The specialist cutters have diamonds within them as they are required to cut through fibre optics, which are made of glass and lead to a dramatic increase in internet speeds.
The company exports around 600 of its products each year to the USA where they are used by engineers working on behalf of communications giant Verizon.
Oxford Fiber has now developed a second product that could see the firm ship between five and ten times as many cutters to the USA.
The company has been assisted by the Coventry and Warwickshire Chamber of Commerce through the Coventry & Warwickshire Business Support Programme which is part funded by the European Regional Development Fund (ERDF).
As part of that Programme, the Chamber has delivered one-to-one support and also assisted the business to successfully secure almost £6,000 worth of ERDF grant funding, through the Coventry and Warwickshire LEP, to help the company grow more quickly.
That money will go towards 3D printing technology and microscope equipment that will allow the firm to bring its new product to market sooner as well as taking on two extra staff in the next few weeks.
Ian Murgatroyd had been operating from his home in Rugby until making the move to the Sir Frank Whittle Business Centre and he believes the business is now ready to move to the next level.
He said: "We can see the huge potential for growth, especially in the USA where our products are already used by engineers in the industry.
"We are investing in new technology and also in creating new jobs so the support we have had and the grant funding will help us to accelerate our growth.
"I've been in this sector for many years now and I am very excited by the next phase of our expansion and we hope to be exporting at least 3,000 units per year, if not more than 5,000 once the new product is launched.
"That will mean skilled assembly jobs right here in Rugby – a town very well known for its engineering prowess."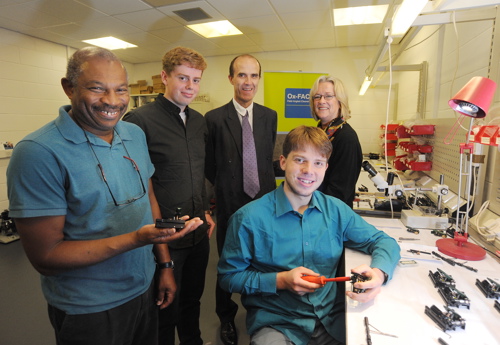 Pictured (left to right): Orville Clarke, Michael Kearney, Ian Murgatroyd (all Oxford Fiber) Martyne Manning (Chamber) & Edward Kearney (seated, of Oxford Fiber).
Martyne Manning, of the Coventry and Warwickshire Chamber of Commerce, has been assisting Oxford Fiber.
She said: "There is great potential here for Oxford Fiber to Go For Growth and I am delighted to be supporting the company.
"Through our Go For Growth campaign we have been highlighting some of the barriers to business expansion and, also, some of the opportunities. In this case, it's great to be able to show the potential for success for Oxford Fiber but also to highlight to other eligible businesses that there is grant-funding available."
For more information on the support available, contact the Chamber on 024 7665 4321 or click here

The Coventry and Warwickshire Business Support Programme is receiving £6.3 million of funding from the England European Regional Development Fund (ERDF) as part of the European Structural and Investment Funds Growth Programme 2014-2020.  The Department for Communities and Local Government is the Managing Authority for ERDF. Established by the European Union ERDF funds help local areas stimulate their economic development by investing in projects which will support innovation, businesses, create jobs and local community regenerations.  For more information visit https://www.gov.uk/european-growth-funding