Huntley Refrigeration
An independent Coventry refrigeration installation and maintenance company has been bought out – securing existing jobs and creating four new posts all within the first eight months of new ownership.
Swift Maintenance Group has added Huntley Refrigeration, based on Fletchamstead Highway, to its portfolio of companies that also includes Knight Catering, Swift Maintenance Services & Swift Ventilation Services.
Following the takeover, Swift has invested in the growth of the established business by appointing additional staff – including the firm's first ever female refrigeration engineer, new vehicles and equipment for the team as well as moving the entire team over from a paper based job allocation and control system to a fully computerised version.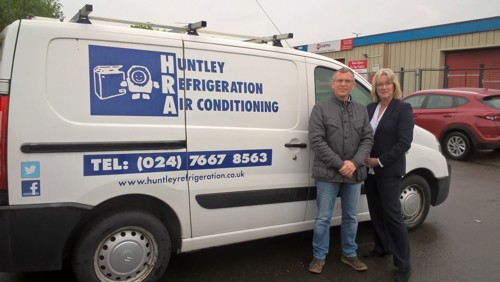 Pictured: Martyne Manning and Chris Birch
The company has been assisted by the Coventry and Warwickshire Chamber of Commerce's business support team through the Coventry and Warwickshire Business Support Programme.
Part of that support included a £10,000 grant, through Coventry City Council, to assist the company in its growth.
Chris Birch, the Swift Group managing director, said: "We saw Huntley Refrigeration as a perfect fit for our group of companies as The Swift Group is a select group of companies that were all originally owner managed and had reached a growth ceiling.
"New management systems and controls have been put in place but we have kept the personal feel of a family run business of more than 40 years.
 "We have already made significant investment to safeguard jobs, create new ones and to furnish the new members of the team with vehicles and equipment they need to carry out their work in a much more efficient and timely manner.
"The support from the Chamber has been invaluable and the grant, as well as the advice and assistance, have allowed us to invest and grow Huntley Refrigeration more quickly.
"It's great to be able to call upon this kind of help and I would urge other businesses to make the most of the help available."
The Coventry and Warwickshire Business Support Programme is funded by the European Regional Development Fund, in partnership with Coventry City Council, Warwickshire County Council and the District and Borough Councils. 
Martyne Manning, a business support coach at the Chamber, said companies should get in touch to access help.
She said: "It's been great to work with Swift Maintenance Group and Huntley Refrigeration to help a Coventry company expand and take on new, skilled staff.
"The move has helped to streamline the company's processes and means they can offer customers an enhanced service.
"Other companies across Coventry can benefit from similar help if they want to expand and invest in their business. Of course, there are criteria that have to be met but I would urge businesses who are looking to make investments to get in touch to find out how we can help."
For more information or to book on to the Business Support programme call the Chamber on 024 7665 4321 or click here

The Coventry and Warwickshire Business Support Programme is receiving £6.3 million of funding from the England European Regional Development Fund (ERDF) as part of the European Structural and Investment Funds Growth Programme 2014-2020.
The Department for Communities and Local Government is the Managing Authority for the ERDF. Established by the European Union ERDF, funds help local areas stimulate their economic development by investing in projects which will support innovation, businesses, create jobs and local community regenerations. For more information visit https://www.gov.uk/european-growth-funding